NETC Newsletter
New York, NY November 21, 2002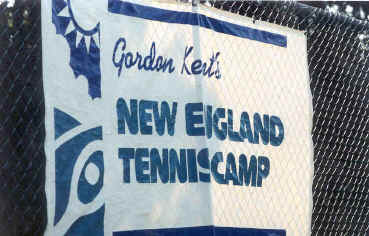 NETC Update
The Holiday season is fast approaching and we are beginning to prepare for next summer. This edition of the NETC Newsletter includes over 175 photos from NETC 2002 together with all the Team and Tournament results. We hope you enjoy it!
Look for our ads this year in the NY Times Magazine Section, USTA Yearbooks in Eastern, Middle States and New England England, Tennis Week, and Tennis Magazine. The 2003 NETC Brochure will be mailed in early December with information on the Early Registration Discount for returning campers.
We appreciate the response to the Survey which went out about two weeks ago. We appreciate your comments and feedback! If you haven't yet returned your Survey, please do so ASAP!
See you in 2003!
Gordon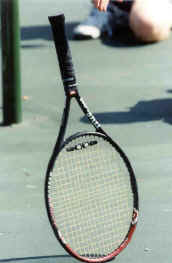 NETC email Address
You can email us at:
netennis@aol.com
(Note from Gordon – It's great to hear from all of you who send me Instant Messages on AOL!!)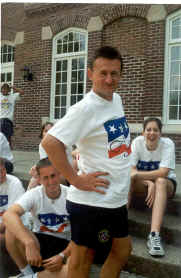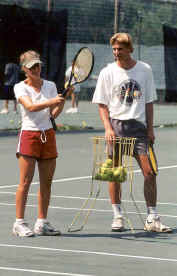 Survey Results
Thanks to all of you who responded to the survey this year. As usual we got some great suggestions! We'll post survey results soon!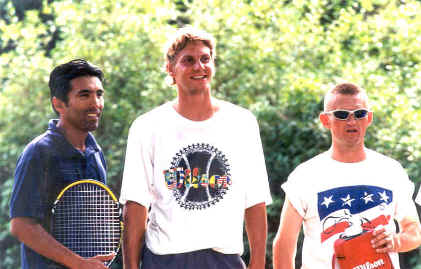 Staff News
Adam Bak has returned home to Poland where he attends school and coaches tennis.

Our counselors from the Czech Republic, Premek Balek and James Ludvik, have also returned to their homes in Prague where they attend the university. Kim Brettschneider attends Pomona College in Claremont, California. Kim attended NETC as a camper in 1996, 1997 and 1998. NETC Assistant Director Luis Checa is teaching in the Junior Program at Roosevelt Island Racquet Club in New York City. As a teenager Luis was a member of Gordon Kent's Junior Program at Stadium Tennis Center. How many years ago was that Luis??? Second year NETC counselor Mark Claydon is in England where he is hoping to find a position in the film industry. Gemma Collett is back to her studies in England and hopes to return to NETC in 2003. Patrick Heppell is a member of the men's varsity team at Redlands University in Redlands, California. Pat is a native of Canada and makes his home in Arizona when he is not at school. NETC Office Manager Jenna Imperato lives in Beacon, NY and attends Mount Saint Mary College in Newburgh. Mike Jacobs attends school in New Jersey and like Kim was a camper at NETC before becoming a counselor. Cat Lally studying at the University of Manchester in England. Colin Mansell is continuing his world travels. After camp he returned to England and then it was on to Sidney, Australia where he has a position as a tennis coach. Colin is an avid football fan and annually travels to the US to attend NFL games. Go Dolphins!!! Oklahoma native Billy Popejoy attends at college at Northeastern State University and is the assitant coach of the women's tennis team. By coincidence, 1999 NETC counselor Neus Barbera attends the same school and plays on the women's tennis team. Chris Simon is back at school in Germany. Dave Span, father of NETC campers Skip and Cobi Span, lives in nearby Somers NY. He teaches tennis and is a professional musician. Kira Staddon attends Bolton University in England. Kira is still angry at Colin for dumping ice on her head! (See the Session 4 photos!) Maggie Wheeler attends Brown University in Providence, Rhode Island. Maggie was a ranked junior in the New England Section of the USTA.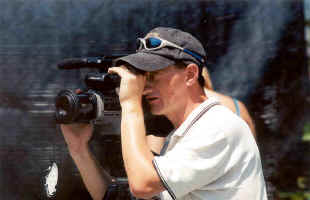 Early Registration Discount
Campers who attended NETC in 2001 or 2002 are eligible for a discount on their 2003 camp tuition. Anyone registering before February 1, 2003 will receive a $100 per session discount. More information will be sent to you in December along with the 2003 NETC Brochure.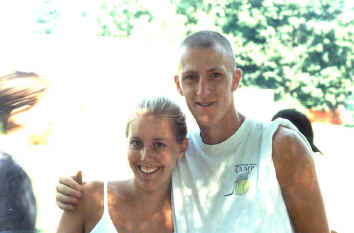 NETC 200

2 Results
First Session
Team Winners – T-Birds
Team Runners-up – Mopeds
Team Best Players
1. Jimmy Crystal
2. Kisho Watanabe
3. Thibault Robert
4. Robert Ranieri
5. Jessica De Carlos
6. Jordan Lindsay
7. Kyley Herring
Most Improved Players
Dorrie Lee, Kei Watanabe, Maddy Evans, Tyler Ehrman
Sportsmanship Awards
Thibault Robert, Amanda Wilhelm, Lauren Spera, Vanya Himanen
A Singles Winner
Haig Schneiderman
A Singles Runner-up
Jimmy Crystal
A Singles Semi-finalists
Jake De Candia, Kisho Watanabe
A Singles Consolation Winner
Cobi Span
A Singles Consolation Runner-up
Vanya Himanen
A Doubles Winners
Jimmy Crystal & Jake De Candia
A Doubles Runners-up
Mike Kelton & Michael Brooks
A Doubles Semi-finalists
Julien Versailles & Cobi Span, Eric Nadel & Haig Schneiderman
B Singles Winner
Robert Ranieri
B Singles Runner-up
Jessica De Carlos
B Singles Semi-finalists
CeCe Crystal, Tara Ryan
B Singles Consolation Winner
Lindsay Buzaid
B Singles Consolation Runner-up
Jordan Lindsay
B Doubles Winners
Jason McManmon & Robert Ranieri
B Doubles Runners-up
CeCe Crystal & Kyley Herring
B Doubles Semi-finalists
Jordan Lindsay & Tyler Marcus, Tara Ryan & Lindsay Buzaid
C Singles Winner
Dorrie Lee
C Singles Runner-up
Tomoki Murakami
C Singles Semi-finalists
Mark Kim, Kyley Herring
C Singles Consolation Winner
Maddy Evans
C Singles Consolation Runner-up
Tyler Ehrman
C Doubles Winners
Jem Kogen & Kei Watanabe
C Doubles Runners-up
Tyler Ehrman & JD Dace
C Doubles Semi-finalists
Lindsay Kent & Dorrie Lee, Tomoki Murakami & Mark Kim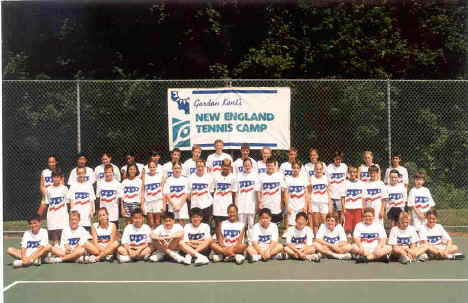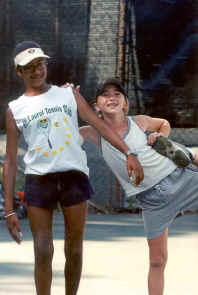 Click here to see more First Session photos
Second Session
Team Winners – Looney Tunes
Team Runners-up – Ninja Turtles
Team Best Players
1. Eric Wachs
2. Julien Versailles
3. Kevin Kent
4. Chris Seeger
5. Robert Ranieri
6. Soren Jahan
7. Steven Seidel
8. George Lederman
9. Gale Rosenberg
10. Sam Alperin
11. Ashley Kera
12. Josh Harary
Most Improved Players
Kei Watanabe, Serena Qiu, Lauren Bucholz, Josh Harary
Sportsmanship Awards
Tomo Hayashi, Steven Seidel, Anisha Kurien, Scout Berger
A Singles Winner
Skip Span
A Singles Runner-up
Go Kamiyama
A Singles Semi-finalists
Jeff Axen, Michael Brooks
A Singles Consolation Winner
Cobi Span
A Singles Consolation Runner-up
David Raim
A Doubles Winners
Jeff Axen & Skip Span
A Doubles Runners-up
Go Kamiyama & Jesse Vanacore
A Doubles Semi-finalists
Chris Seeger & Mike Cianciulli, Cobi Span & Julien Versailles
B Singles Winner
George Lederman
B Singles Runner-up
Robert Ranieri
B Singles Semi-finalists
Alex Demers, Matt Bakal
B Singles Consolation Winner
Mike Checa
B Singles Consolation Runner-up
Alex Tang
B Doubles Winners
Kevin Kent & Philip London
B Doubles Runners-up
Melissa Maxon & Robert Ranieri
B Doubles Semi-finalists
Katherine Attwell & Scout Berger, Scott Bailey & Mike Checa
C Singles Winner
Sam Alperin
C Singles Runner-up
Caitrin Dunn
C Singles Semi-finalists
Diana Capasso, Ashley Kera
C Singles Consolation Winner
Lindsay Kent
C Singles Consolation Runner-up
Jason Green
C Doubles Winners
Amanda Teplen & Diana Capasso
C Doubles Runners-up
Thomas Gutierrez & Jason Green
C Doubles Semi-finalists
Julie Balamaci & Meredith Richard, Josh Harary & Premek Balek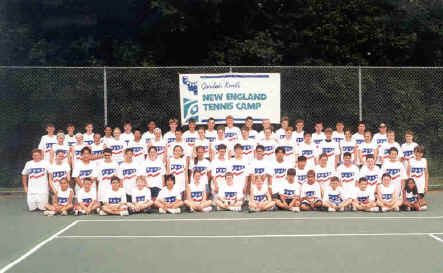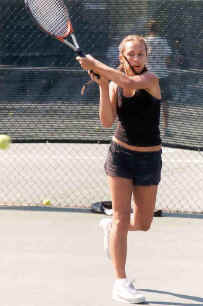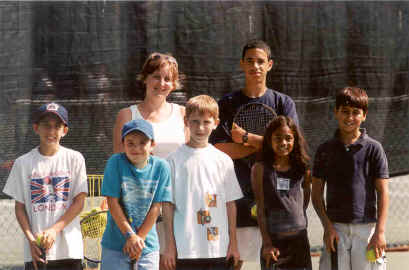 Click here to see more Second Session photos

Third Session
Team Winners – Sneakers
Team Runners-up – Eight Balls
Team Best Players
1. Skip Span
2. Steve Boydston
3. Kisho Watanabe
4. Ben Winston
5. David Brent, Zach Taxin
6. Alex Demers
7. Alex Moinian
8. Jennifer Stevens
9. Thomas Gutierrez
10. Diana Capasso
11. Lindsay Kent
12. Christine Patruno
Most Improved Players
Tabitha Fitch, Elisha Kottler, Emir Dogan, Ian Janer
Sportsmanship Awards
Stacey Lopez, Akio Bandle, Malte Zylla, Meredith Richard
A Singles Winner
Jeff Axen
A Singles Runner-up
Skip Span
A Singles Semi-finalists
Kisho Watanabe, Eric Wachs
A Singles Consolation Winner
Mike Cianciulli
A Singles Consolation Runner-up
David Raim
A Doubles Winners
Jeff Axen & Eric Wachs
A Doubles Runners-up
Billy Popejoy & Benjamin Des Lyons
A Doubles Semi-finalists
Malte Zylla & Sam Lewis, Steve Boydston & Kisho Watanabe
B Singles Winner
Brian Crevi
B Singles Runner-up
Masha Komich
B Singles Semi-finalists
Airi Ishikura, Alex Demers
B Singles Consolation Winner
Jennifer Stevens
B Singles Consolation Runner-up
Ali Greenfield
B Doubles Winners
Alex Checa & Stacey Lopez
B Doubles Runners-up
Alex Demers & Julian Ginsberg
B Doubles Semi-finalists
David Brent & Kasey Genin, Zach Taxin & David Raim
C Singles Winner
Thomas Gutierrez
C Singles Runner-up
Omer Baturay
C Singles Semi-finalists
Rebecca London, Daniel Lewkowicz
C Singles Consolation Winner
Ian Janer
C Singles Consolation Runner-up
Josh Harary
C Doubles Winners
William Adamowicz & Thomas Gutierrez
C Doubles Runners-up
Zara Charlery & Danielle Farrell
C Doubles Semi-finalists
Sam Alperin & Anton Kirschner, Elia Frid & Mike Berman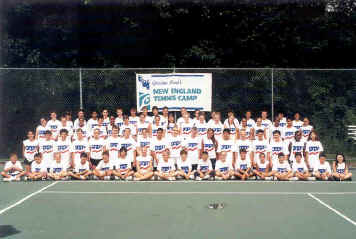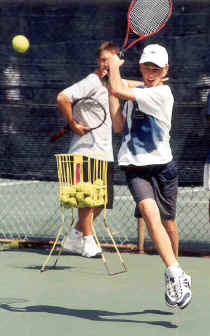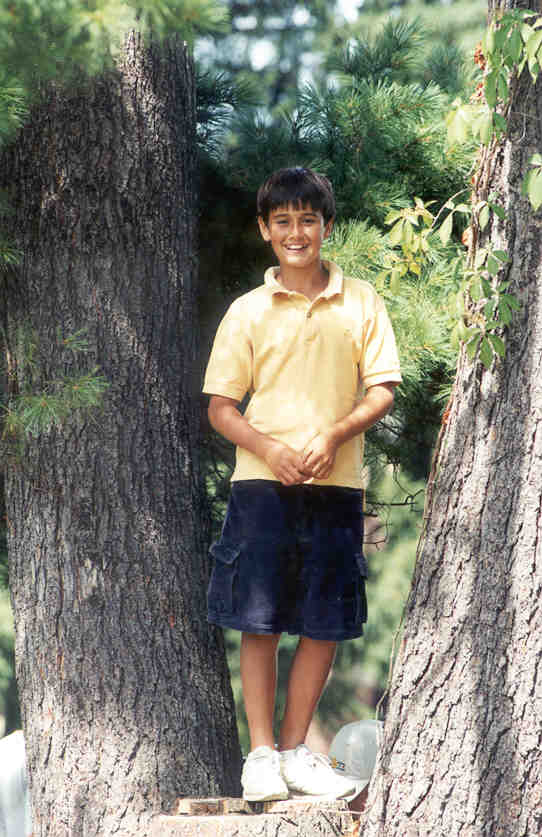 Click here to see more Third Session photos
Fourth Session
Team Winners – NETC Vise
Team Runners-up – Monkey's Wrench
Team Best Players
1. Skip Span
2. David Raim
3. Tahir Panton
4. Alex Checa
5. Omer Baturay
6. Allie Samowitz, Rosie Newman
7. Gina Palermo
8. Jennifer Jones
Most Improved Players
Elizabeth Metzger, Wesley Low, Tahir Panton, Yukiko Takahashi
Sportsmanship Awards
Carrie Bergan, Nina Cochran, Katsuyuki Takahashi, Sam Lewis
A Singles Winner
Alex Kramer
A Singles Runner-up
David Raim
A Singles Semi-finalists
Kevin Kent, Benjamin Des Lyons
A Singles Consolation Winner
Tahir Panton
A Singles Consolation Runner-up
Sam Siegel
A Doubles Winners
Skip Span & David Raim
A Doubles Runners-up
Tahir Panton & Alex Kramer
A Doubles Semi-finalists
Michael Li & Kevin Kent, Steve Boydston & Benjamin Des Lyons
B Singles Winner
Alex Checa
B Singles Runner-up
Mike Checa
B Singles Semi-finalists
Michael Li, Sam Lewis
B Singles Consolation Winner
Gale Rosenberg
B Singles Consolation Runner-up
Elizabeth Coopersmith
B Doubles Winners
Mike Checa & Ben Roberts
B Doubles Runners-up
James Ludvik & Zach Grant
B Doubles Semi-finalists
Jacob Gash & Premek Balek, Ieroo Park & Joey Haskell
C Singles Winner
Gina Palermo
C Singles Runner-up
Carrie Bergan
C Singles Semi-finalists
Yukiko Takahashi, Mert Baturay
C Singles Consolation Winner
Adriana Perez
C Singles Consolation Runner-up
Katsuyuki Takahashi
C Doubles Winners
Allie Samowitz & Rosie Newman
C Doubles Runners-up
Jennifer Jones & Lindsay Kent
C Doubles Semi-finalists
Carrie Bergan & Gina Palermo, Mert Baturay & Omer Baturay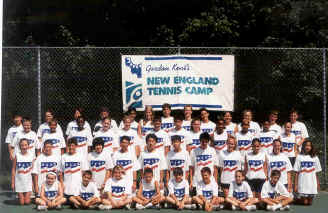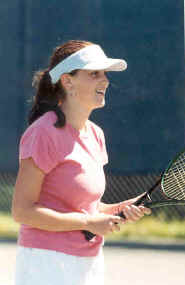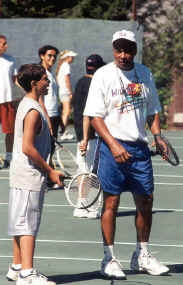 Click here to see more Fourth Session photos

Hope you enjoyed the Newsletter! See you next summer!