NETC Newsletter
New York, NY November 29, 2005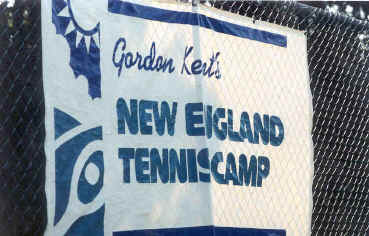 NETC Update
The Holiday season is fast approaching and we are beginning to prepare for next summer. This edition of the NETC Newsletter includes over 200 photos from NETC 2005 together with all the Team and Tournament results. We hope you enjoy it!
The 2006 NETC Brochure will be mailed in early January.
See you in 2006!
Gordon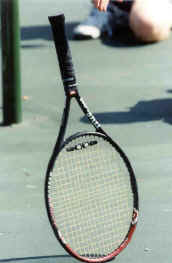 NETC email Address
You can email us at:
netennis@aol.com
(Note from Gordon – It's great to hear from all of you who send me Instant Messages on AOL!!)





NETC Sponsors USA Tennis New England Junior Summer Championships


New England Tennis Camp is again the Official Sponsor of the USA Tennis New England Junior Summer Championships. Click on the link below to find out more about USA Tennis New England and their tournament circuit.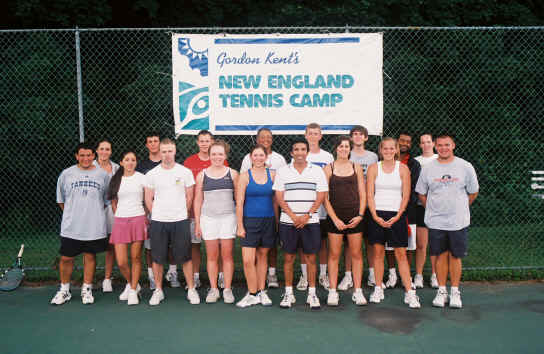 Staff News


Luis Checa and Jason Speirs are spending their winter working with Gordon Kent at the Roosevelt Island Racquet Club in New York City. Luis is the Administrative Director of the Junior Program along with being a senior member of the RIRC professional staff. Jason is busy teaching in the Junior and Adult Programs along with giving private lessons. Dave Span lives in Westchester County and is an accomplished musician. His sons Cobi and Skip are active tournament tennis players. Daniel Lowther is back at Oxford University. NETC Office Manager Catherine Larkin is doing an internship with the Tampa Bay Devil Rays. NETC Nurses Ginny Collucci and Sue McMillen are both nurses at schools in the Pawling area. A group of NETC counselors invaded Florida for a week after camp. Rosie Erceg, Aliesha Lloyd, Matt Welsh, Jon Ray, Kate Zasada, and Alex Vagin spent a week in the Orlando area before embarking on other adventures. Several of the counselors visited Stafford Palmieri at Yale. Aliesha did a tour of the United States while Rosie spent time in Europe. Matt Welsh was spotted in Arizona and in New York City. Matt Brown returned to England after camp. Alex Checa spent the fall at St. John's University in New York City and is transferring to Pace University in January. Both Chris Tolson and Jamie Hanks are back in the Phoenix area. Chris Yates attends the University of Richmond in Virginia. Mica Tucker attends Austin College in Texas where she is a member of the tennis team. Our staff did a great job at NETC in 2005 and we hope to see them all back for 2006!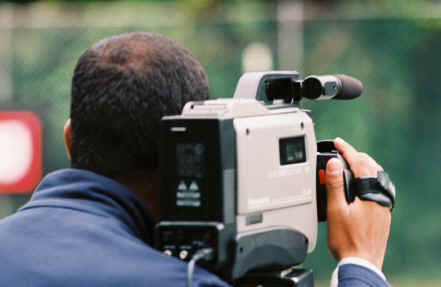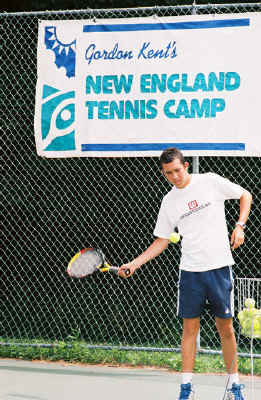 Lip Synch


On the final Thursday of each session the campers and staff enjoy the Lip Synch presentation. There were some memorable moments last summer! (And a few not so so memorable!) Click below to view some photos from last summer's Lip Synch presentations. Unfortunately, we had some camera problems during Session 1's Lip Synch and there are only a few photos from that session.

2005 Lip Synch Photos


NETC 2005 Results
First Session
Team Winners –

Motion of the Ocean
Team Runners-up – Sea Monkeys
Team Best Players
1. Elliot Fanshel
2. Michael Brooks
3. Chad Levy
4. Tapan Buch
5. Anish Butala
6. Jackie Finn
7. Drew Crannel
8. Nikki Albion
9. Marcio Santos
10. Charles Arledge
11. Sasha Barrett
Most Improved Players
Maksim Boyar, Anish Butala, Genevieve Tabios, Marcio Santos
Sportsmanship Awards
Sasha Resnikova, Joanna Ehrenreich, Michael Brooks, Ethan Ellis
A Singles Winner
Elliot Fanshel
A Singles Runner-up
Peter Orr
A Singles Semi-finalists
Stacey Lopez, Justin Skibinski
A Singles Consolation Winner
Chad Levy
A Singles Consolation Runner-up
Josh Natbony
A Doubles Winners
William Teplen & Peter Orr
A Doubles Runners-up
Kevin Kent & Sirish Rao
A Doubles Semi-finalists
Elias Castro & Cobi Span, Elliot Fanshel & Mike Jones
B Singles Winner
Ethan Ellis
B Singles Runner-up
Ben Conant
B Singles Semi-finalists
Tapan Buch, Lizzie Cutler
B Singles Consolation Winner
Drew Crannel
B Singles Consolation Runner-up
Saul Sparber
B Doubles Winners
Tapan Buch & Anish Butala
B Doubles Runners-up
Drew Crannel & Jem Kogen
B Doubles Semi-finalists
Brian Zucker & Hank Swerdloff, David Strauch & Josh Natbony
C Singles Winner
Graham Goodwin
C Singles Runner-up
Morgan Keating
C Singles Semi-finalists
Charles Arledge, Marcio Santos
C Singles Consolation Winner
Kaiya Kaven
C Singles Consolation Runner-up
Jamie Beer
C Doubles Winners
Kaiya Kaven & Jackie Finn
C Doubles Runners-up
Charles Arledge & Michael Bula
C Doubles Semi-finalists
Michael Zelixon & Maksim Boyar, Morgan Keating & Marcio Santos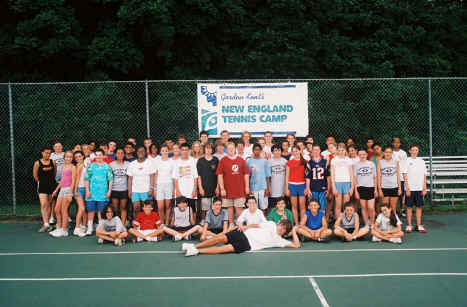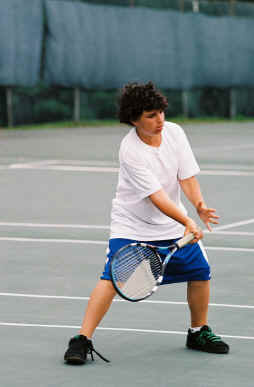 Click here to see more First Session photos
Second Session
Team Winners – It
Team Runners-up – Talking Frogs
Team Best Players
1. Justin Skibinski
2. Mike Cianciulli
3. Brandon Thomas
4. Conor Quinn
5. Mike Chung
6. Sydney Werber
7. Elizabeth Johnson
8. Hannah Rooks
9. Angela Assal
10. Matthew Izbersky
11. Alez Sassoon, Sarah Vickery
12. Diana Delliacona
Most Improved Players
Trevor Lindner, Shelby Renberg, Evan Brooker, Diana Delliacona
Sportsmanship Awards
Justin Skibinski, Malo Duchet-Suchaux, Sarah Vickery, Conor Quinn
A Singles Winner
Justin Skibinski
A Singles Runner-up
Malo Duchet-Suchaux
A Singles Semi-finalists
William Teplen, Michael Brooks
A Singles Consolation Winner
Vanya Himanen
A Singles Consolation Runner-up
Ben Conant
A Doubles Winners
Justin Skibinski & Will Adamowicz
A Doubles Runners-up
Michael Brooks & Mike Cianciulli
A Doubles Semi-finalists
Malo Duchet-Suchaux & David Estrin, Will Teplen & Vanya Himanen
B Singles Winner
Conor Quinn
B Singles Runner-up
Amanda Teplen
B Singles Semi-finalists
Max Stein, Michael Cox
B Singles Consolation Winner
Dennis Pushkin
B Singles Consolation Runner-up
Julian Melendez
B Doubles Winners
Mike Weinberg & Conor Quinn
B Doubles Runners-up
Evan Brooker & Ben Conant
B Doubles Semi-finalists
Nathan Rudd & Eric Edelstein, Jordan Levy & Nikki Albion
C Singles Winner
Angela Assal
C Singles Runner-up
Andrew Davis
C Singles Semi-finalists
Trevor Lindner, Shelby Renberg
C Singles Consolation Winner
Jake Ochroch
C Singles Consolation Runner-up
Alyssa Licata
C Doubles Winners
Chris Yates & Shelby Renberg
C Doubles Runners-up
Jake Ochroch & Morgan Keating
C Doubles Semi-finalists
Allison Dorf & Sydney Werber, Trevor Lindner & Dan Lowther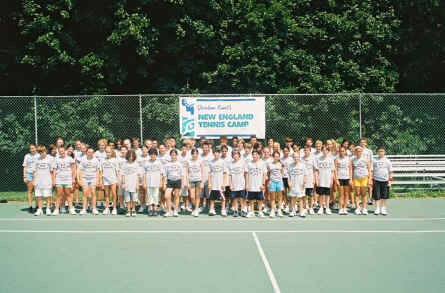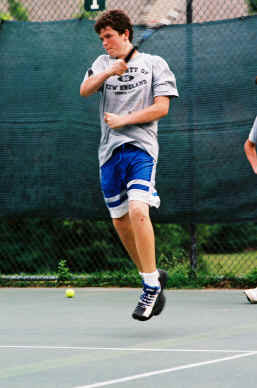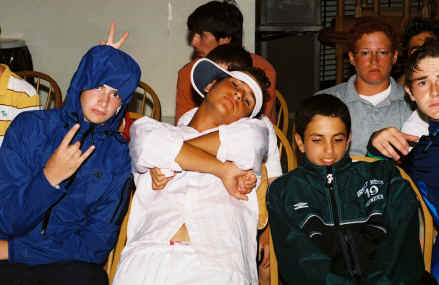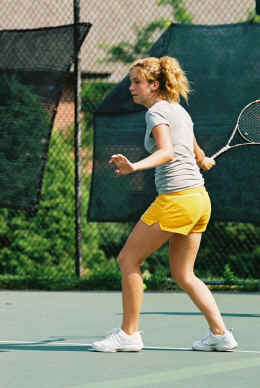 Click here to see more Second Session photos

Third Session
Team Winners – White Chocolate
Team Runners-up – Sugar Daddy's
Team Best Players
1. Michael Brooks
2. Brandon Thomas
3. John Pfisterer
4. Jake Crawford
5. Yu Li
6. Nikki Albion
7. Travers Nammack
8. Dillon Goetz
9. Anton Kirschner
10. Kristin Harrison
Most Improved Players
Kristin Harrison, Danielle Marlow, Mursalin Choudrey, Alex Bronsky
Sportsmanship Awards
Jon Horn, Ethan Ellis, Helene Deiner, Samara Shutkind
A Singles Winner
Michael Brooks
A Singles Runner-up
Kevin Kent
A Singles Semi-finalists
Jon Horn, Malo Duchet-Suchaux
A Singles Consolation Winner
Mike Cinaciulli
A Singles Consolation Runner-up
Sam Alperin
A Doubles Winners
Malo Duchet-Suchaux & Mike Cianciulli
A Doubles Runners-up
Brian Crevi & Jon Horn
A Doubles Semi-finalists
Kevin Kent & Cobi Span, Jordan Levy & Brandon Thomas
B Singles Winner
Danny Basch
B Singles Runner-up
Nikki Albion
B Singles Semi-finalists
Saul Sparber, Yu Li
B Singles Consolation Winner
Grace Pfisterer
B Singles Consolation Runner-up
Takanori Higuchi
B Doubles Winners
Michael & Hilary Brooks
B Doubles Runners-up
Helene Deiner & Grace Pfisterer
B Doubles Semi-finalists
Courtney Sokol & Stephanie Rettig, Danny Basch & Alex Bronsky
C Singles Winner
Anton Kirschner
C Singles Runner-up
Laura Bartos
C Singles Semi-finalists
Brad Ferguson, Justin Leis
C Singles Consolation Winner
Hilary Brooks
C Singles Consolation Runner-up
Andrew Clark
C Doubles Winners
Brad Ferguson & Dillon Goetz
C Doubles Runners-up
Chris Yates & Andrew Clark
C Doubles Semi-finalists
Anton Kirschner & Henry Rosenbloom, Justin Leis & Travers Nammack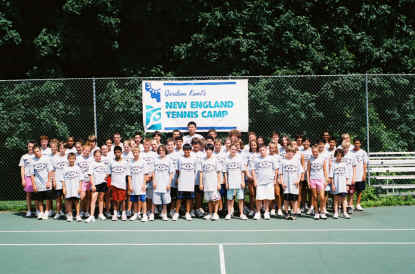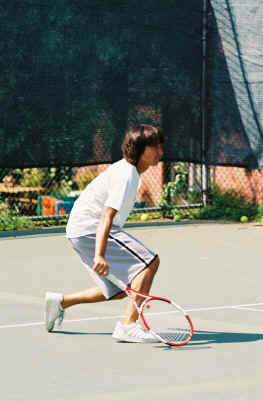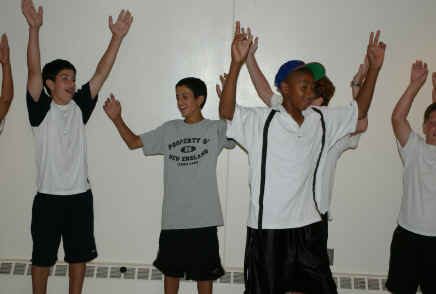 Click here to see more Third Session photos
Fourth Session
Team Winners – Knives of the Round Spoon
Team Runners-up – Apple Juicers
Team Best Players
1. Jason Shkodnik
2. Michael Brooks
3. Jackie Finn
4. Jared Cohen
5. Angela Assal
6. Jackie Birnbaum
7. Alexandra Cifone
8. Hilary Brooks
9. Mayra Garcia
Most Improved Players
Sarah Gubetta, Chelsea Mohr, Justin Poser, Hannah Luckower
Sportsmanship Awards
Angela Assal, Jared Frankel, Alexandra Cifone, Hilary Brooks
A Singles Winner
Michael Brooks
A Singles Runner-up
Jason Shkodnik
A Singles Semi-finalists
Stephanie Finn, Kevin Kent
A Singles Consolation Winner
Josh Yablon
A Singles Consolation Runner-up
Saul Sparber
A Doubles Winners
Stephanie Finn & Michael Brooks
A Doubles Runners-up
Kevin Kent & Jason Shkodnik
A Doubles Semi-finalists
Josh Yablon & Zach Yablon, Saul Sparber & Alex Vagin
A Doubles Consolation Winners
Sebastian Brandon & Cobi Span
A Doubles Consolation Runners-up
Cristina Natale & Alex Checa
B Singles Winner
Jackie Finn
B Singles Runner-up
Jared Cohen
B Singles Semi-finalists
Sebastian Brandon, Angela Assal
B Singles Consolation Winner
Brad Goldman
B Singles Consolation Runner-up
Henry Rosenbloom
B Doubles Winners
Angela Assal & Jackie Hicks
B Doubles Runners-up
Jordan Selig & Chris Tolson
B Doubles Semi-finalists
Stacey Goldberg & Alex Cifone, Jared Frankel & Jared Cohen
B Doubles Consolation Winners
Lindsay Kent & Nikki Albion
B Doubles Consolation Runners-up
Wing Yee Man & Jackie Birnbaum
C Singles Winner
Stacey Goldberg
C Singles Runner-up
Mayra Garcia
C Singles Semi-finalists
Sarah Gubetta, Amanda Kelley
C Singles Consolation Winner
Luke Keogh
C Singles Consolation Runner-up
Chelsea Mohr
C Doubles Winners
Hilary Brooks & Chelsea Diamond
C Doubles Runners-up
Mayra Garcia & Chelsea Mohr
C Doubles Semi-finalists
Luke Keogh & Henry Rosenbloom, Sarah Gubetta & Amanda Kelley
C Doubles Consolation Winners
Justin Poser & Daniel Lowther
C Doubles Consolation Runners-up
Hannah Luckower & Carl Bentata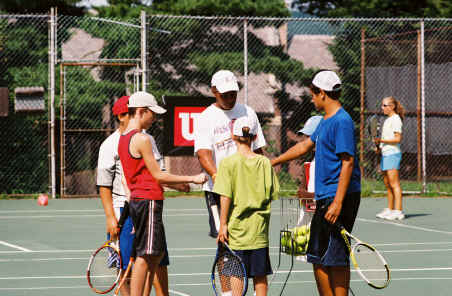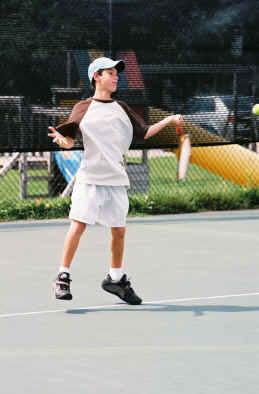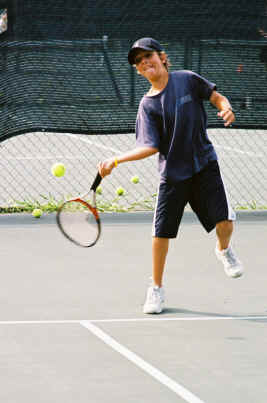 Click here to see more Fourth Session photos

Hope you enjoyed the Newsletter! See you next summer!